Sunday, October 30, 2005
Mum's had a fracture.

Well. My mum fell and fractured her right Radial/Ulna a few days back. She was throwing rubbish away in the Rubbish Dump when she slipped and fell on teh very slippery and greasy floor. She called me when I was conducting tests for people (and interestingly enoughm, the scenario that I was giving was also a fracture heheh) and asked me what to do. I said :"err.. go see doctor lah." I told her to go to the clinic first before going to the hospital in case it was very painful and I figured that they might do some preliminary securing of the fracture. However, given what they did for my dad when he had his heart attack, I doubted that they would do anything much anyway.

To make a long story short, my mum was told to go to AH (supposedly faster then TTSH) and she finally had a cast done and we left AH sometime between 2300 and 0000 hrs. So much for AH being faster, heh.

She'd take about 3 months to recover and till then she will not be able to tend to her stall. So we've gone to see the MP (thanks to Cornball for that reminder, not sure if my mum was planning to do that) and hopefully the rent and various charges will be waived for the period which my mum will not be able to sell stuff. My mum was particularly insistent that the refuse charges (Sembwaste Pte Ltd) must not be left out cos it was the lack of maintenance in there that caused her to be injured. Well, hopefully the recovery will be without incident. And I wish she'd stop cooking!!!
5 Adorations
Tuesday, October 11, 2005
My, my!! A good day to follow the bad!
Hmm. Follow up post to my post yesterday on all the crappy things that happened.

First, I had switched off my phone yesterday and had thought of switching it on again... just in case that helped.... I didn't. I took it to the handphone shop downstairs and when I switced it on to show the problem...... The phone was working perfectly fine!!! Oh my goodness! I hope this lasts.

Next..... my blogspot editor is alright now! Yes, this means I can do all the formatting and stuff in the post now and I don't have to keep copying and pasting from previous posts , this is when I finally thought it's a good idea to copy the tags FIRST before starting a post, but hey! Who's complaining?

Fortunately I did not buy a new Handphone yesterday... phew..... :sweat:

Now all I need is a.... uhm I'll keep that to myself, thank you.
0 Adorations
Monday, October 10, 2005
Not a very good day

Been having some technical issues with PC, internet and blogspot lately. For example, I don;t know where all the formatting options on my blogspot post create page went to.... I thought I may be in the HTML mode... but I can't find the option to toggle it back.

Today, my Z200 took a dive and decided to retire it's LCD. Went down to SE Service Centre at Goldhill Plaza.. and was advised to not repair it. Estimated $100 if the LCD indeed requires to be changed. I am now thinking about buy a J300i but that will set me back about $238 w/o contract.

Then, the BEST of all, my PC starts throwing tantrums. Remeber how I said I have some problems with internet? Well, the browser gets cranky and stuff so I thought it might be time to do those security updates that the updater is prompting me to do..... I installed the updates (automatically of course) and it tells me that it needs to restart the PC. Of course, by all means!

Lo and behold! My PC now refuses to start and is stuck in the safe mode screen. Any choice I make, or allowing the timer to run out means the PC will hang........

It is indeed a crappy day...........

And I still can't figure out what happened to my blog editor...... I edited this post by copying and pasting the tags from my previous posts....... how medieval is that?


2 Adorations
Tuesday, October 04, 2005
Shaky's Donuts!
Ok, so I have finally got a bluetooth dongle for my K700i (after I get a bluetooth enabled laptop no less hahah!!) So I am finally able to upload stuff from my HP!

Now, lay your eyes on the glory of Shaky's Donuts, definitely the best Donut on Tioman and Singapore! It's honestly the best stuff I had there. The first day my MO discovered them, I had one... then when my colleagues went out to shore leave and got back we ended up with what.... 30?? I think I had 3 that night. Yummy!

Thanks to my MO for daring to try it, or else we would have missed this treasure!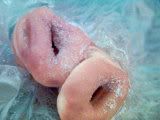 Shaky's Donuts!!
6 Adorations